Wow…
I've made kale chips before, but this new recipe is the tastiest so far! I had to stop myself from eating the entire tray.
They are made without any items that might cause any kind of allergic reaction (so they are dairy free, gluten free, flour/grain free, sesame free, nut and seed-free) so they are great for thyroid, autoimmune and Hashimoto's people.
I just had to share this with you: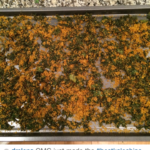 These are savory, spicy and kind of sweet.  Here's my recipe:
Mix in a large bowl (I used a large glass salad bowl):
2/3 cup nutritional yeast (I used Kal nutritional yeast flakes)
1 1/2 teaspoon organic garlic powder
1/4 teaspoon Celtic sea salt
1/2 teaspoon organic chili powder
1 teaspoon coconut sugar
2 Tablespoons virgin olive oil
Several rotational grinds from the pepper mill
Mix all ingredients well in the large salad bowl.
Add in 1 package of tender organic kale leaves. I used a package of Earthbound Organic Tender Baby Kale Leaves.
Mix the kale and spice blend well with your hands.
Spread evenly on a cookie sheet.
Bake at 200 degrees for 2 hours.
DELICIOUS!!
Let me know how yours turn out!
Now I better walk the dog before I go into the kitchen and eat the entire tray of the kale chips! 😉
Yours in health,
Dr. Elena 😉