Hi there,
I have spend the last week listening to the awesome Thyroid Summit. Great info from some wonderful leaders in our field. They are offering a special price only good until Monday night of $67.
If you missed the Summit or only heard part of it, I highly recommend this. It's a crash course in helping to understand your situation.
If we are already working together, you know I appreciate it when you learn about your condition and are proactive. That action on your part reduces the time and expense on your end because we can spend less time with me educating you on the basics, and more time on your specific situation and how you can feel better.
Here is the link:
https://nq177.infusionsoft.com/go/thyroidorder/DrElena/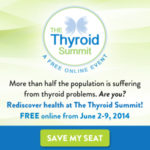 The price will go up soon, so get this while you can.
Yours in health, healing and happiness,
Dr. Elena 😉